Molecular Parameters for CH2CHCHO (Propenal)
National Radio Astronomy Observatory



Three aldehyde molecules were observed and appear to be related by simple hydrogen addition reactions, which probably occur on the surface of interstellar grains. An aldehyde is a molecule that contains the aldehyde group (CHO): a carbon atom singly bonded to a hydrogen atom and double-bonded to an oxygen atom; the remaining bond on that same carbon atom bonds to the rest of the molecule.

Starting with previously reported propynal (HC2CHO), propenal (CH2CHCHO) is formed by adding two hydrogen atoms. By the same process propanal (CH3CH2CHO) is formed from propenal.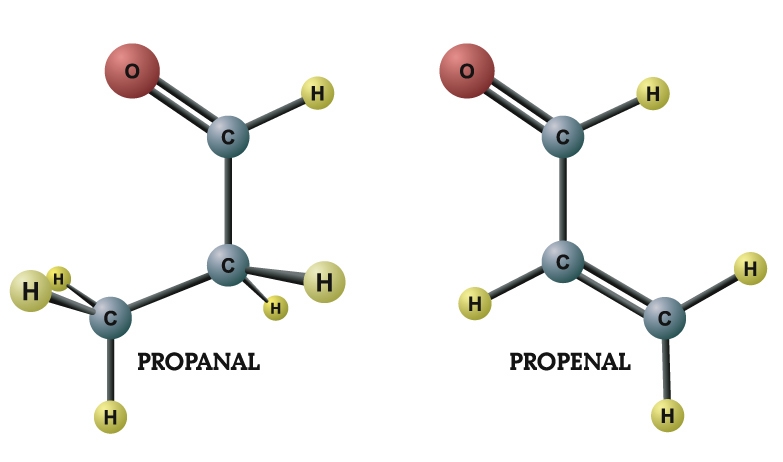 Interstellar detection by Hollis, J. M., Jewell, P. R., Lovas, F. J., Remjian, A. & Møllendal, H. 2004, Ap. J. Letters, 610, L21

Interstellar propenal and propanal were detected in emission toward the Galactic center source Sagittarius B2(N) with the 100 m Green Bank Telescope (GBT) by means of centimeter-wave rotational transitions.


Propenal:
a = 3.052(4) D, and
b = 0.630(1) D (Blom et al. 1984).


Back to the Known Interstellar Molecules Page