MMA Imaging and Calibration Group
Agenda/Minutes for meeting Wednesday, 26 Feb 2003 at 4:00pm EDT.

Date: 26 Feb 2003

Time: 4:00 pm EST (2:00 pm Socorro, 2:00 pm Tucson)

Phone: (434)296-7082 (CV SoundStation Premier Conference phone 3rd floor).

Past minutes, etc on MMA Imaging and Calibration Division Page


Agenda
Notes from the meeting are in this font!
--------


Science IPT News - Wootten
News from my point of view. Discussion of Tucson news, ALMA Board news.

- Level 3 milestones
have now been submitted. Someday I will figure out how to make presentable copy from Excel, then I can share them.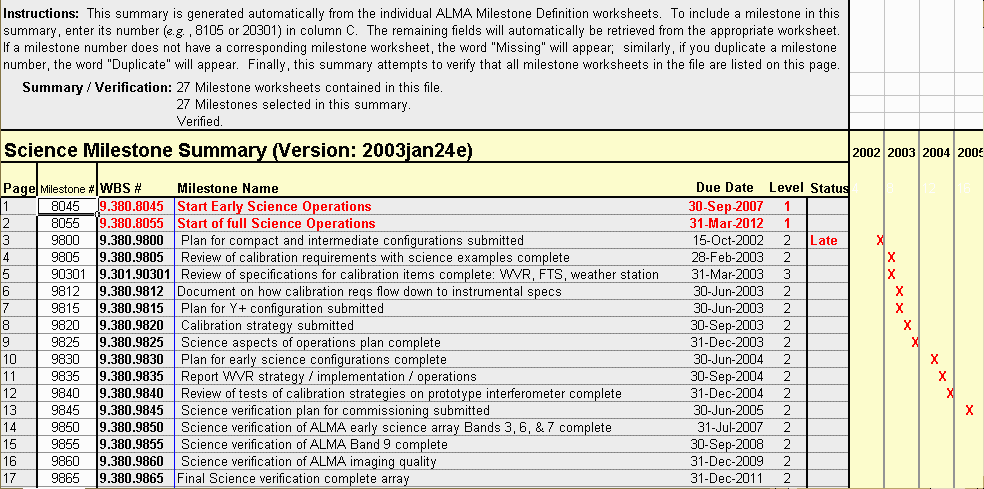 Project News -
ASAC Telecon 5 Mar

ALMA Project Office has moved to Ivy Commons on Old Ivy Road.

First meeting of the ALMA Board was held 24-5 Febin Arlington, Virginia.

Software IPT Preliminary Design Review
will be held in Tucson 18-20 March 2003.


The European ALMA workshop in Leiden 18-20 December was held. I have put into almaedm the presentations which i received.

AMAC Meeting 24-25 March Socorro

ASAC Face-to-face Meeting 2-3 April 2003 in Grenoble, France at IRAM. A tentative agenda is available at the link to the 5 Mar telecon above.
May 26/27 ALMA Board face-to-face (Europe)

ALMA Week 2-6 June Victoria

November 3/4 ALMA Board face-to-face (N.A.?)

--------

Proposed correlator upgrade -- Wootten

Please review memo 441 by Escoffier and Webber. Webber presented a table of Modes for the new correlator upgrade which is under investigation. Tests are under way to determine the costs of this development, but current indications are that implementation can be achieved with little cost increase, though more testing will be required.

You have received a copy of a message from Steve Scott on behalf of the SSR, requesting comments from the Science IPT on the ALMA data rates:
"The SSR has decided to drop its proposal for increasing the ALMA data rates in favor of a new proposal that takes into account the capabilities of the enhanced correlator. We would like input from the Science IPT before making this proposal and hope that you will help us. I have attached a document (EnhancedCorrelator.pdf) that attempts to make some assumptions to distill out reasonable constants in the data rate equation. If these are accepted at face value, the main unknown in the average data rate is the number of channels. The second attachment (DataRates.pdf) is our previous request for a rate increase. It contains more background material and examples that are not duplicated in the newer document.
The newer document contains recommendations, some with more emphasis than others, as it seems easier to iterate from a given position rather than starting from scratch. But feel free to examine any aspect of the problem.
Please don't hesitate to contact me or any SSR member if there are questions." Mel Wright answered; as did John Richer. Are there other comments? Mel noted that the VLA potential could not be harnessed for years. Now it seems quaint that this was ever a consideration. I hear a consensus that the 8 MB/s specification for mean datarate is probably adequate. It could well seem quaint too by full operation. The peak datarate may limit productivity, particularly in data-intensive modes such as on the fly interferometry (this will not likely be a supported mode at the beginning of full operations).
--------

Polarization Widget -- Wootten

--------
Hans Rudolf asks: To complete the FE specifications, I need to clarify the centre frequency for the quarter wave plate: Could you please indicate it to me?
After much discussion, it was decided that the polarization widget, perhaps a quarter wave plate, will be inserted at Band 7.
--------

Scientific Benefits of a Single Antenna Design -- Wootten

--------
Al summarized scientific reasons favoring a single antenna design. At its first meeting, in item
(21), The Board endorsed the goal of the JAO to procure the production antennas to a single design which has been prototyped and evaluated.
Note that it is a goal.
--------

Illumination Offsets -- Holdaway

--------

See Mark's report on illumination offsets tests and milestones. Recall that in ALMA Memo No. 402, Mark showed that offsets in the illumination of the dishes by the feeds would result in a phase graident in voltage patterns, a serious problem for high dynamic range mosaicing. Mark notes that a simple correction algorithm can remove essentially the entire effect of the voltage pattern phase gradient. In the report, he explores how to measure the offsets and to apply corrections to the (u,v) coordinates.
--------


Calibration - All

--------
See new SMA Memos from Martina Wiedner.
List of the status of the reviews/reviewers. The key is: "C" - already submitted a review; "U" = submitted an unsolicited review; "Y" = agreed to review the memo; "N" - declined to review the memo; "NR" - no response. Links are provided to reviews; please consult the archive for subsequent discussions.
1 - Memo 423 - Steve Myers (Y), Matt Carter (N), Geoff Blake (Y)
2 - Memo 422 - Douglas Bock (Y), Lee Mundy (NR), Jeff Mangum (C) , Dave Woody (U) (Memo withdrawn)
3 - Memo 427 - Robert Lucas (C) , Ed Fomalont (NR), Craig Walker (C)
4 - Memo 372 - Jeff Mangum (C) , Larry D'Addario (C) , Mark Gurwell (N), Bryan Butler (U)
5 - Memo 415 - Jose Cernicharo (Y), Mark Holdaway (C) , John Richer (Y)
6 - Memo 404 & 403 - Mel Wright (N), Dave Woody (Y&C) , John Richer (Y)
8 - Memo 402 - Richard Hills (Y), Peter Napier (NR)
9 - Memo 352 - Dave Woody (C) , Chris Wilson (C) , Dick Plambeck (N)
10 - Memo 434 - Stephane Guilloteau (C)
so, as yet no response from:
Lee Mundy - 422
Ed Fomalont - 427
Peter Napier - 402

and awaiting agreed upon reviews from:
Steve Myers - 423
Geoff Blake - 423
Douglas Bock - 422
John Richer - 415, 404, 403
Richard Hills - 402


y --------


AIPS++ - Myers

The Skeptical Review is scheduled early March. Review board still being impanelled, I guess.


--------

Configuration - Holdaway



Large Configuration: Progress Report.

Conway has developed the antenna pad specifications.

The Configuration Group has delivered the configuration plan to the Site Group, and surveyors are at work at Chajnantor. For photos, please see this Configuration realization page.

Pad spacing--should it differ from antenna spacing?
In the version D of the configuration document (ALMA-90.02.00.00-001-D-SPE) the distance between pads is set to a distance of 15.15m. Last chance for comments!!!
--------

Site Characterization

No report this week.


--------

Other

The JAO has decided to compile reports on a quarterly basis, rather than monthly.
A NA bimonthly report for January was sent to the NA Project Office for NSF. When the end of Feb arrives, this will be amplified by Feb activities and EU items and forwarded to the JAO as this text. Please send materials to HAW for NA.


--------
SMA News...

--------

Upcoming Meetings - Wootten
JUN 22-27, 2003 2003 IEEE AP-S INTERNATIONAL SYMPOSIUM AND USNC/CNC/URSI NATIONAL RADIO SCIENCE MEETING
JUL 13-26, 2003 Twenty-Fifth General Assembly of the IAU Abstracts due NOW.
JUL 22/25, 2003 IAU Symposium (221): Star Formation at High Angular Resolution, Sydney, Australia. Tyler Bourke is a co-chair of the scientific organizing committee. Good opportunity to show ALMA capabilities.
SEP 22-26, 2003 4th Cologne-Bonn-Zermatt-Symposium on The Dense Interstellar Medium in Galaxies
--------


Travel
Oh, always
------