3C272.1 = B1222+131 = M84 = NGC4374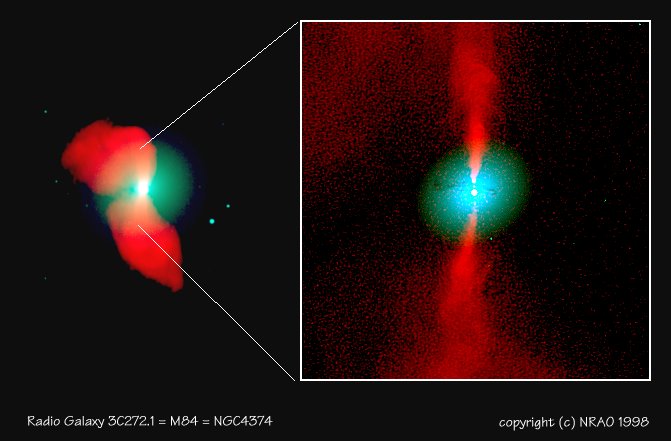 FR I (double-plumed) radio galaxy at 17 Mpc distance
Overall size of radio source about 14 kpc
Dusty-nucleus elliptical galaxy in the core of the Virgo Cluster
Red: VLA 4.9 GHz (6cm wavelength) radio images
Blue-green: optical images
Left panel: VLA 4.9 GHz image at 3.9 arcsec resolution on R band optical image
Right panel: VLA 4.9 GHz image at 0.4 arcsec resolution on HST WFPC2 optical image
(click image for higher-resolution version)
(high-resolution radio data only)
Radio-optical alignments:

Initial radio jet direction roughly perpendicular to kpc-scale dust distribution
Greatest radio elongation closer to minor axis of galactic light
Galactic nucleus shows evidence for a supermassive black hole
Intermediate resolution image, VLA 1.3 arcsec resolution on POSS2
---
For further details about the low-resolution radio imaging, see "Rotation measure variation across M84" by Robert A. Laing & Alan H. Bridle, Monthly Notices of the Royal Astronomical Society, 228, 557-571 (1987).
The high-resolution radio image is unpublished data of Robert A. Laing (ESO) and Alan H. Bridle (NRAO).
The R band image is from "Extended optical line-emitting gas in radio galaxies: Broad-band optical, narrow-band optical, and radio imaging of a representative sample" by Stefi A. Baum, Timothy Heckman, Alan Bridle, Wil van Breugel & George Miley, Astrophysical Journal Supplement Series, 68, 643-714 (1988).
The HST WFPC image is from "The nuclear ionized gas in the radio galaxy M84 (NGC 4374)" by Gary A. Bower, Timothy M. Heckman, Andrew S. Wilson & Douglas O. Richstone, Astrophysical Journal, 483, L33-L36 (1997).
---

Go back to:
---
Last updated: 2006 July 6, 15:36 EDT