3C353 = B1717-009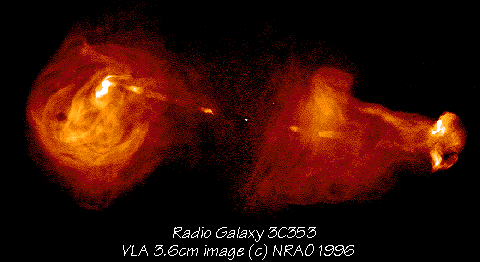 Radio galaxy at z = 0.0304 (131 Mpc, H = 70 km/s/Mpc, Ωm=0.27, ΩΛ=0.73)
Linear scale 640 pc/arcsec
Highly filamentary lobes
Narrow jet and counterjet
Jet feeds bright hot spot
Counterjet, less stable, thrashes over lobe
VLA λ3.6cm (8.4 GHz) image at 0.44 arcsec resolution
Other images of 3C353 available here:
---
See also:

The Jets in the Radio Galaxy 3C353, a paper by Mark Swain, Alan Bridle and Stefi Baum, in A.S.P. Conference Series Vol. 100: Energy Transport in Radio Galaxies and Quasars, eds. Philip Hardee, Alan Bridle and Anton Zensus, 299-304 (1996).
Internal Structure of the Jets in 3C353 by Mark Swain, Alan Bridle and Stefi Baum, in Astrophysical Journal, 507, L29-L33 (1998)
---

Go back to:
---
Last updated: 13 June 2014, 22:15 EDT