!- Converted with LaTeX2HTML 0.6.4 (Tues Aug 30 1994) by Nikos Drakos (nikos@cbl.leeds.ac.uk), CBLU, University of Leeds ->
---



Next:
The ``sheath" around
Up:
Tranverse Profiles
Previous:
Transverse Profiles
---
Total Intensity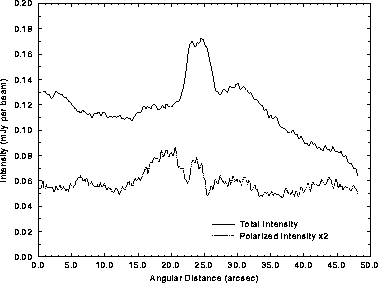 Figure 2: Averaged transverse profiles across the segment of the jet between the brightest knots: 8.4 GHz, 0.44" (FWHM) resolution.
Upper: total intensity. Lower: polarized intensity ×2, showing two minima.

The transverse intensity profiles are flat-topped in many regions (see Figure 2, upper curve). The profiles are poorly fitted by single Gaussian components wherever the signal-to-noise is high. Residuals from Gaussian fits are always positive toward the edges of the jet, and negative toward the jet axis.
---
abridle@nrao.edu