Next:
5.4 Remote Control of Main Camera from Far
Up:
5 Main Camera
Previous:
5.2 Main Camera Presets

5.3 Main Camera Auto Voice Tracking
The main camera can automatically track towards whoever is speaking. The voice detector for this function is in the camera unit (not in the microphone pods). It is important that people face the main camera if they want their voices to be detected!
The first time that the main camera moves to an individual it may take several seconds of continuous speech to locate them. After that, it will pick out their position more quickly (if the speaker stays in the same place).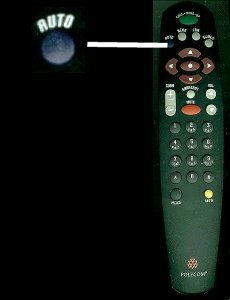 Automatic voice tracking button
The main camera can also be set to track only to its preset positions (this may be more satisfactory than fully automatic tracking, because of echoes from the ceilings).
To have the camera track freely toward whoever is talking, press the dark blue AUTO button on the ViewStation remote control ONCE.
To have the camera track to the preset camera position closest to the speaker, press the dark blue AUTO button TWICE. (The Near Camera icon on the TV monitor will then show gold balls, to represent the preset camera positions, as well as the camera.)
Automatic voice tracking will be disabled if you pan, tilt, or zoom the camera manually.
The success of voice tracking depends on your room acoustics, on how clearly people speak (especially if they are sitting far from microphones) and on the level of other sounds in the room. It will work better in meetings with small groups than it will in a large audience at a lunch talk, and with camera presets that have been optimized for the room.
---






Next:
5.4 Remote Control of Main Camera from Far
Up:
5 Main Camera
Previous:
5.2 Main Camera Presets

---
Home | Contact Us | Directories | Site Map | Help | Search