---
Calibration in terms of Hz/gamma
The table above compares the responsivity of the different sensors, in terms of Hz/nT or Hz/gamma. The plots below show direct measurements on Sensor #5, of the responsivity as a function of magnetic field, and the responsivity as a function of sensor output frequency.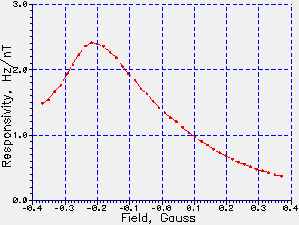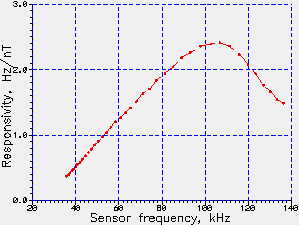 Figure 5 (a) & (b). Responsivity of Sensor #5, vs field and vs frequency
The plots show that responsivities of nearly 2.5 Hz/nT can be reached; however, this occurs at the highest sensor frequency, at the point where the response has already become highly nonlinear. The best operating point of the sensor is around zero field, corresponding to frequencies between 60 kHz and 70 kHz, where the response is a little over 1 Hz/nT. Note that, because the sensors are roughly linear in period, not frequency, so the response in Hz/nT varies approximately as the square of the sensor frequency. At 40 kHz it is about 0.5 Hz/nT, while at 80 kHz, twice the frequency, it is about 2 Hz/nT, or 4 times as greater. This responsivity should not be confused with sensitivity.
---