!- Converted with LaTeX2HTML 0.6.4 (Tues Aug 30 1994) by Nikos Drakos (nikos@cbl.leeds.ac.uk), CBLU, University of Leeds ->
---




Next:
ACTIVE STARS
Up:
THE MILKY WAY
Previous:
MASSIVE STAR FORMING
---
The chief limitation on observational stellar radio astrophysics is sensitivity. Consequently, one of the most important elements of the VLA Development Plan for observing main sequence and pre-main sequence stars is the order-of-magnitude improvement in sensitivity afforded by the improved receivers and greater bandwidth. Several hundred stellar radio sources are now known. The upgrade in VLA continuum sensitivity will increase this number by over an order of magnitude. This fact is highlighted in Fig. 3.1, which shows the log(N)-log(S) curve for radio-detected stars. The figure shows the number density per mJy of detected stars listed in the literature. The data have not been normalized per unit area on the sky. Although the counts will be reasonably complete over the whole sky at Jy levels, at low flux densities, the counts must significantly underestimate the true areal density of radio stars. Despite this fact, the number of radio detected stars rises very rapidly as flux density decreases. Sensitivity at the microJy level has the potential to increase the number of radio-detected stars from the current value of a few hundred to thousands or, perhaps, tens of thousands. This phenomenal increase would revolutionize the field of stellar radio astronomy. New classes of radio stars, and previously unknown phenomena relating to stellar radio emission are almost certain to be discovered.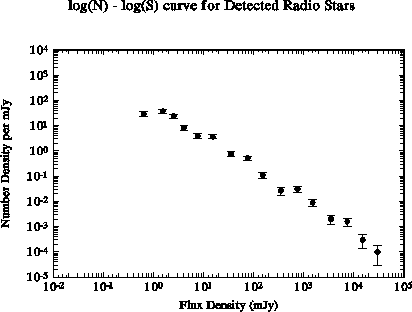 Figure 3.1: The log

-log

curve for radio-detected stars.

A major focus of modern stellar physics is the comparison of characteristics for whole populations of stars, to separate the effects of such properties as age, rotation, metallicity and evolution on the observed stellar properties, and thereby to provide benchmarks for stellar evolution and stellar dynamo models. Radio observers have been unable to participate in this comparison, because we have lacked the sensitivity to detecting most members of any given population. Except in a few cases, we do not have a representative sample of detections of a class of stars. The few exceptions are classes with a large number of very nearby members, e.g., the RS CVn binary systems. With current sensitivity limits, the radio properties are measurable only for the few brightest members of a given stellar class. One of the greatest impacts the enhanced VLA will have on stellar radio research is that the enormous improvements in instrumental sensitivity will allow the radio-emitting properties of whole stellar populations to be determined. Examples of stellar populations which require improved sensitivity for a proper radio census are:
Pre-main-sequence stars in star-forming regions: Low-mass stars at the the ages of the Taurus, Ophiuchus and Orion star-forming regions are prodigious continuum radio sources, but the distance of these stars makes them barely detectable by the current VLA. An important example is the class of stars known as classical T Tauri stars (the prototypical low-mass stars descending to the main sequence from birth): a small number of stars in this class have been detected in large surveys. Their radio emission is apparently free-free, and is associated with the outflows which appear to be an essential aspect of star formation and disk accretion. Yet so few have been detected that it is difficult to determine what influences control the level of emission because we cannot carry out meaningful correlations with other observed stellar properties.

Open stellar clusters: Open clusters provide snapshots stellar activity across a range of spectral classes at a similar age. Prominent examples are the Pleiades and Per clusters at 50 - 70 million years, and the Hyades cluster at 600 million years. Numerous surveys have so far detected only a small number of stars in these clusters, representing just the peak of the radio luminosity function.

Cataclysmic variables: A very small number of these stars have been detected by the VLA, yet many of them should produce radio emission at a level just below present thresholds. The radio emission is a diagnostic of the very-high-energy particles accelerated in the accretion process in these systems, for which the only other diagnostic is -ray emission. However, few systems have been detected in -rays, so the enhanced VLA can make an important contribution to the study of acceleration in these systems.
There are many other examples of similar populations important in stellar physics, for which we have only a poor census of radio detections. However, the most exciting advances provided with the more sensitive VLA will be in the area of ``thermal'' radio stars. There is a large range of stellar phenomena for which free-free emission from thermal plasma has been detected at radio wavelengths, including novae and nova-like variables, stellar jets, stellar wind outflows, circumstellar shells and disks, and, recently, photospheric emission from nearby supergiant stars. Stars in this class generally have radio spectra that rise toward shorter wavelengths.
For a flux density limited sample of radio sources, an increase in sensitivity can be related to an increase in the volume of space sampled. Fig. 3.2 shows the increase in the volume that will be sampled by the expanded VLA compared to the current VLA, as a function of wavelength. Clearly, the most dramatic increase occurs at wavelengths of a few cm or shorter. Also shown are characteristic spectra of broad classes of known radio stars. Circumstellar thermal sources, such as novae, shells and winds, and stellar photospheres which rise in strength steeply toward shorter wavelengths will be detectable to much larger distances than currently possible.

Figure 3.2: The line connecting squares shows the fractional increase in volume, as a function of wavelength, over which a radio source at a given luminosity would be detected by the upgrade in sensitivity. Characteristic radio spectra are shown for four categories of stellar radio sources.

---




Next:
ACTIVE STARS
Up:
THE MILKY WAY
Previous:
MASSIVE STAR FORMING
---
---
newvla@nrao.edu