!- Converted with LaTeX2HTML 0.6.4 (Tues Aug 30 1994) by Nikos Drakos (nikos@cbl.leeds.ac.uk), CBLU, University of Leeds ->
---




Next:
Instrumental Requirements
Up:
NEARBY GALAXIES
Previous:
Polarization
---
Regions of intense starburst activity within 1 to 2 kpc of the nucleus contain the clues to a host of fundamental questions about the Universe. Among these are: The unclarified physical processes involved in the formation of stars-in this case especially stars of high mass-the detailed mechanisms which cause a starburst phase to be self-limiting (i.e., it snuffs itself out by removing its interstellar gas), how the supernova-generated cosmic rays are diffused; how the hot star + supernova-generated energy is dissipated into the dense ambient gas, the latter's chemical and thermal properties down to sub-parsec scales; how the collective starburst winds are able to amplify (and seed?) the strong, organized magnetic fields which are found in the outflow material; and the mechanism of the organized expulsion of thermal gas, dust, and cosmic rays into the halo and the surrounding IGM.
Starbursts are connected in as yet unknown ways to a wider family of galaxy systems which include active galactic nuclei, radio quiet QSO's, Seyfert galaxies and quasars, all of which release large amounts of energy at or near a galaxy nucleus. Starbursts, which the enhanced VLA could study in minute detail in the nearby universe, were most certainly very prevalent in the earliest galaxy generations. Thus a thorough understanding of ``local'' starbursts, such as M82, are needed to reconstruct the physical scenario which explains the formation of the first galaxies, hence the cosmic evolution of galaxies. The early-universe starburst scenario includes the rate of production of heavy elements, and the outflow-seeding of the IGM with metal-enriched gas, cosmic rays, probably accompanied by magnetic fields.
Images of starburst nuclei such as M82 (Fig. 4.1), reveal the complexity of both the inner starburst engine and the outflow process at a maximum resolution of a few parsecs. The emission in Fig. 4.1 contains a complex, though not yet fully resolved mix of thermal and non-thermal radio emission, with striking variations of spectral index on many angular scales.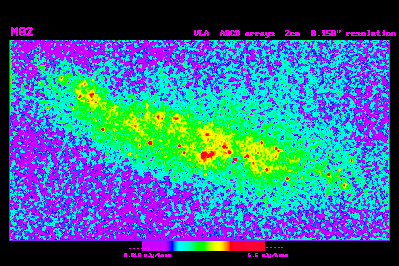 Figure 4.1: M82,

2cm false-color image of the starburst galaxy from data in all four VLA configurations.

The proposed improvement in the VLA's resolution (7-fold), sensitivity (> 20 ×), and spectroscopic capability will enable great progress in unraveling the ``unknowns'' listed above. Because optical, UV and X-ray extinction make this important class of system accessible only in the radio and infrared, the enhanced VLA will be required in these investigations. No forseeable infrared device will be capable of these angular resolutions.
---




Next:
Instrumental Requirements
Up:
NEARBY GALAXIES
Previous:
Polarization
---
newvla@nrao.edu