Next:
The Jet and Counterjet
Up:
Internal Structure of the Jets in 3C353
Previous:
Introduction
The 8.4 GHz observations were made with two pointings of the VLA in each of its A, B, C and D configurations. The data from all four configurations were combined, self-calibrated and deconvolved as described by Swain (1996). The final images were restored with circular Gaussian beams of FWHM 0.44", and have rms noise of 19 µJy per CLEAN beam area in Stokes I and 16 µJy per CLEAN beam area in Stokes Q and U.
Figure 1 shows the I image as a gray scale, with salient features labeled.
Both jets are first detected ~ 10h -1 kpc from the nucleus. The brighter jet can be traced continuously from J1 until it enters a well-defined hot spot (H). The counterjet is detected unambiguously only at CJ1 and CJ2; it is unclear where it terminates.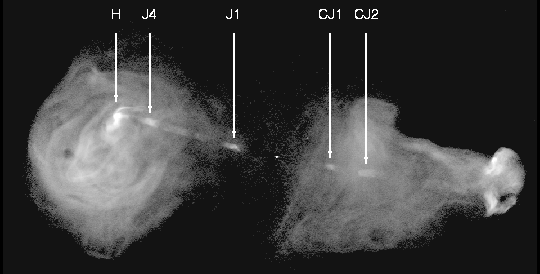 Figure 1: Gray scale rendition of the 8.4 GHz total intensity image at 0.44" resolution, labeling the features noted in the text.

---



Next:
The Jet and Counterjet
Up:
Internal Structure of the Jets in 3C353
Previous:
Introduction
abridle@nrao.edu
Tue Sep 1 10:56:44 EDT 1998