Next:
6.3 TV monitor volume
Up:
6 Sound
Previous:
6.1 Microphone Positioning

6.2 Sound Check (Audio Meter)
The quickest, and possibly best, way to check your sound levels is to ask participants at the other sites if they can hear speakers from your site clearly.
The ViewStation also has an Audio Meter that may help you to determine a good microphone placement, and the best mixing level between audio from the Polycom pods and any auxiliary microphones, before a meeting starts.


System Info Icon
To access the Audio Meter, use the ARROW button to highlight the System Info icon on the Polycom Top Menu, then SELECT

this menu.
Then highlight and SELECT Diagnostics to reach the Polycom Diagnostics Menu :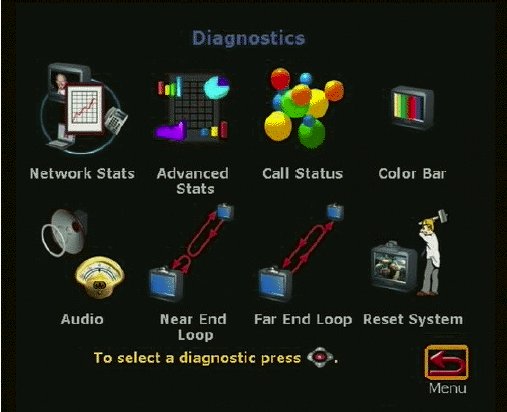 Diagnostics Menu
Highlight and SELECT the Audio icon from the Diagnostics Menu, then the Audio Meter: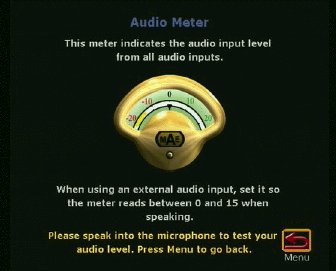 Audio Meter

The meter shows the combined sound level from all audio inputs. Polycom recommends that this level be in the range 0-15 on this meter.
---






Next:
6.3 TV monitor volume
Up:
6 Sound
Previous:
6.1 Microphone Positioning

---
Home | Contact Us | Directories | Site Map | Help | Search