Next:
7.4 Video Snapshots
Up:
7 Alternate Cameras/Video Sources
Previous:
7.2.1 Document Camera Operation

7.3 Videotape
You can use a VCR connected to your site's ViewStation either to record your video conference or to present pre-recorded video material as part of your video conference.
If recording. the VCR will record whatever video and audio signals were appearing on your site's main monitor during the conference.
If playing tapes, both audio and video from the VCR are sent to all sites. To play a tape in the VCR, press the NEAR button on the ViewStation remote control until the Video Input Selection Menu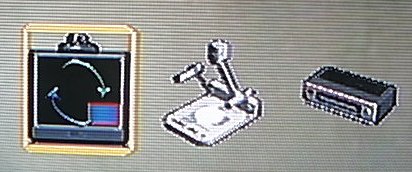 Video Input Selection Menu
appears at the lower left of your TV monitor, then:
Use the RIGHT ARROW button to highlight the VCR icon on this menu, then press
SELECT on the remote, or
Press the number button (usually 3) corresponding to the VCR in the menu
Once the Polycom has switched to the VR video feed, use the VCR's remote control or control panel to play the tape.
---






Next:
7.4 Video Snapshots
Up:
7 Alternate Cameras/Video Sources
Previous:
7.2.1 Document Camera Operation

---
Home | Contact Us | Directories | Site Map | Help | Search