Next:
7.6 Powerpoint Slides on the ViewStation
Up:
7 Alternate Cameras/Video Sources
Previous:
7.4 Video Snapshots

7.5 PC Displays ... PolySnap
Polycom provides a PC-hosted utility, PolySnap, for acquiring single or multiple video snapshots from a Windows PC that is connected to a ViewStation over the network, and transmitting them to all sites in a video conference exactly as if they were snapshots from a video camera at the originating site.
The area to be captured is user-definable, and you can elect to send a new snapshot whenever the contents of the area being captured change. PolySnap is therefore a particularly simple way to automate sending a PC-based presentation to all sites in a video conference.
There is a short delay while each screen capture is processed into video and transmitted to the ViewStation.
When you run PolySnap on the PC, you see an interface based on the back view of a camera: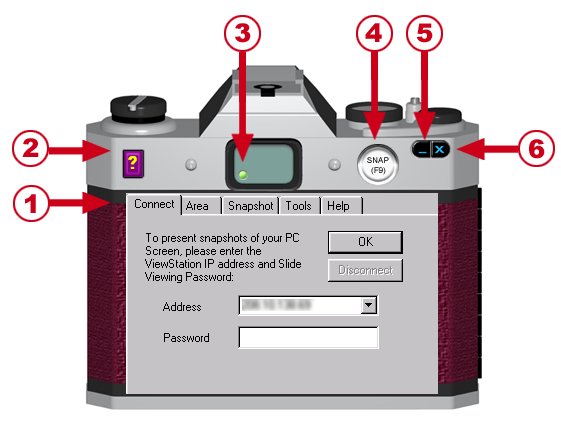 PolySnap interface
Each tab (Connect, Area, Snapshot, Tools, and Help) contains information related to the tab's title. Click on a tab to display its contents.
Click on the question mark to open the online help
The green light in the "viewfinder" indicates that the PC which is running PolySnap is connected to the ViewStation. If the light in the viewfinder is red, the PC is not connected to the ViewStation.
Click on the Snap button, or press the F9 key to take a snapshot of the PC screen or area that is currently defined.
Click on the blue underscore (_ ) to minimize the camera interface onto the Windows toolbar.
Click on the blue X to exit from PolySnap.
To connect the PC to the ViewStation, click on the Connect tab, enter the IP address of the ViewStation, and the Slide Viewing Password (get this from your site's video conferencing support staff). You will see the message
Connecting ... collecting System Info
then the light in the viewfinder should turn green. Hitting Snap on the camera back or F9 on the PC keyboard will send a snapshot to the selected ViewStation (or begin an automatic snapshot-sending sequence).
The Area tab lets you elect to send the capture the full screen, a user-defined area, or a particular application window.
The Snapshot tab lets you elect to send a single snapshot, a timed series of snapshots, or an automatic snapshot whenever the capture area changes.
The Tools tab lets you elect to send sound effects, change the language of the help display, or update the software.
The Info screen tells you basic information about the ViewStation to which you are connected.
PolySnap is free, available from \\Eagle\TechSupport\Videoconf\polycom, or from Polycom's video software download site.
---






Next:
7.6 Powerpoint Slides on the ViewStation
Up:
7 Alternate Cameras/Video Sources
Previous:
7.4 Video Snapshots

---
Home | Contact Us | Directories | Site Map | Help | Search