Next:
4.2 Address Book
Up:
4 Making Connections
Previous:
4 Making Connections

4.1 Speed Dial
The last six unique numbers dialed from your site are kept in a Speed Dial Menu in the order (1) last dialed, (2) previous dialed, etc. This order changes whenever a new number is dialed from your site, so the Speed Dial Menu may be differently ordered each time you access it.
The Speed Dial Menu lets you dial any of its listed sites by pressing 1, 2, 3, 4, 5, or 6 on the ViewStation remote control. To access the Speed Dial Menu, pick up the remote and press MENU until you reach the Polycom Top Menu: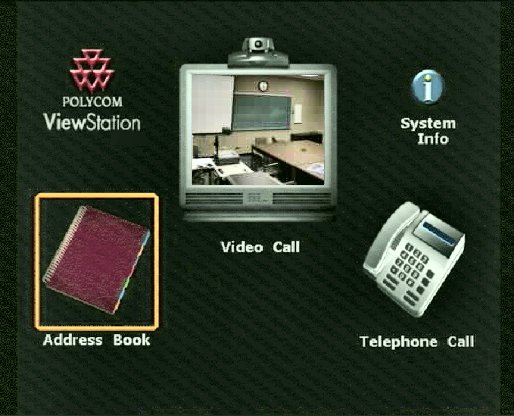 Polycom Top Menu with Address Book icon highlighted
then:
Use the ARROW keys on the ViewStation remote to highlight the Address Book icon
Press SELECT on the remote
The ViewStation will then display the Speed Dial Menu:
Example Speed Dial Menu
If the site you wish to dial is in this menu, you can dial it by pushing the single number button 1 to 6 corresponding to its current position in the menu.
---






Next:
4.2 Address Book
Up:
4 Making Connections
Previous:
4 Making Connections

---
Home | Contact Us | Directories | Site Map | Help | Search