Next:
4.3 Calls Among NRAO Intranet Sites
Up:
4 Making Connections
Previous:
4.1 Speed Dial

4.2 Address Book
Each ViewStation has an Address Book that holds all of its commonly dialed video conferencing numbers. To access the full Address Book:
Use the ARROW keys to highlight the Address Book icon at lower left in the Speed Dial Menu
Press SELECT on the remote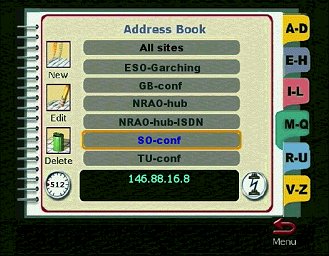 Example Address Book Menu
The initial Address Book Menu shows only the first seven entries. The others can be accessed either
by scrolling down with the DOWN ARROW button on the ViewStation remote control, or
by typing their first letter, or
by using the ARROW keys on the remote control to highlight one of the lettered tabs at the right of the Address Book Menu ).
Once an Address Book entry has been highlighted, press SELECT

on the remote control to dial the corresponding connection.
Names and numbers stored in your ViewStation's Address Book should not be changed without consulting your local NRAO video conferencing support staff.
---






Next:
4.3 Calls Among NRAO Intranet Sites
Up:
4 Making Connections
Previous:
4.1 Speed Dial

---
Home | Contact Us | Directories | Site Map | Help | Search