Next:
7.2.1 Document Camera Operation
Up:
7 Alternate Cameras/Video Sources
Previous:
7.1 Secondary Camera

7.2 Document Camera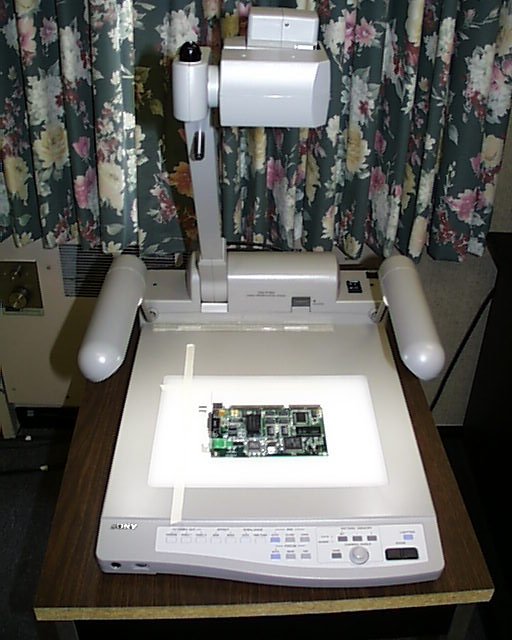 Document Camera
The document camera (a Sony Video Presentation Stand) allows high-video-quality presentations to be made easily from materials in a wide variety of formats, including overhead transparencies, paper, or three dimensional objects such as circuit boards. It is particularly useful when high or variable magnification is needed, e.g. to show details of circuit boards, 35 mm slides, or very fine print.
To switch to using the Document Camera as your site's video source:


Video Input Selection Menu
Press the NEAR button on the ViewStation remote control until the Video Input Selection Menu appears at the bottom left of your TV monitor, then:
Use the RIGHT ARROW button to highlight the Document Camera icon on this menu
Press SELECT to switch to the Document Camera video feed.
or
Press the number button (usually 2) corresponding to the Document Camera icon on this menu
---
Subsections
---






Next:
7.2.1 Document Camera Operation
Up:
7 Alternate Cameras/Video Sources
Previous:
7.1 Secondary Camera

---
Home | Contact Us | Directories | Site Map | Help | Search