Next:
4.4.1 To place ISDN Calls to non-NRAO sites
Up:
4 Making Connections
Previous:
4.3.2 Placing Multi-site Calls from the VSX Hub

4.4 Calls to External Sites via ISDN
Charlottesville's CV-ER311 Polycom FX unit has direct ISDN connections, and ISDN calls of 384 Kbps and below can be placed or received directly from it.
The other NRAO sites do not have direct ISDN service, but they can receive calls from, or place calls to, ISDN sites outside the NRAO by connecting to the NRAO ISDN Gateway. At present, this Gateway supports only 128 Kbps (2x64 Kbps) calls. For such calls, you must dial one ISDN phone number for each 64 Kbps connection (unless the far end is equipped to negotiate the second connection automatically).
Start the process from the Polycom Top Menu: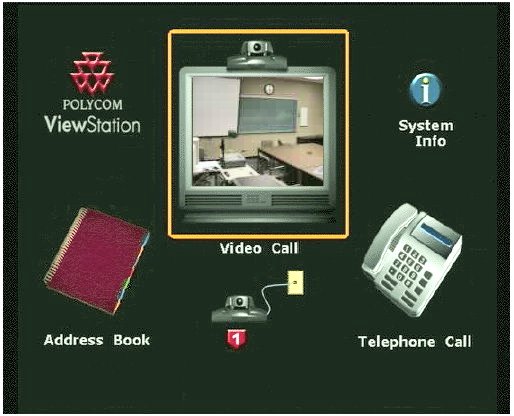 Polycom Top Menu with Video Call Icon highlighted
If you see any other menu when you pick up the ViewStation remote control, press the MENU button on the remote until you reach the Polycom Top Menu (the unit will also chime when you reach the top menu level).
---
Subsections
---






Next:
4.4.1 To place ISDN Calls to non-NRAO sites
Up:
4 Making Connections
Previous:
4.3.2 Placing Multi-site Calls from the VSX Hub

---
Home | Contact Us | Directories | Site Map | Help | Search