ALMA Science IPT Telecon

Phone Meeting 2004-October-19
---
Connection Details
Call date: 2004-October19 (Tuesday)
Call time: 15:30 UT 1130EDT 0530CEST
Duration: 1 hr
USA Number: 877-874-1919
Outside USA Number: +1-203-320-9891
Passcode: 185064
Leader: Al Wootten
---
Old Business
The enhanced Agenda from last month's meeting is available. Science IPT notes from month before last's telecon.
-

Action items from previous Science telecons:




ALMA Week: [Wootten]Provide detailed values on solar filter to FEND by 30 April . These values will be adopted.
[Laing] Develop a requirement for stitching together the BEND 2 GHz sections for overlap. In process; see comments at CRE22, which lead to a further linked document on this subject by Comoretto, Butler and others. CDR is 18-19 October
[with SE] Decide when antennas are handed over to Commissioning (after 1st light or 1st fringes?) 6-01-04 The Plan has this happening after first light at the OSF for Optical telescope pointing. [See CSV Wiki]

MILESTONES: all leaders of level 3 milestones with upcoming deadlines to report on status. The Milestones, with project number, are available updated for last month.
New Business -- Agenda
ALMA Calendar

18-19 Oct -- PDR for the Tunable Filter Bank card; Bordeaux
27-29 Oct -- Dusty and Molecular Universe Paris
2-3 Nov -- ALMA Board Face-to-face Meeting, OSF, near San Pedro de Atacama
15 Nov -- AMAC & ASAC Reports due to Board

2 December -- ALMA Board Telecon

5-7 Jan 2005 -- UNSC URSI Boulder meeting Commission J
11 Jan 2005 - ALMA Town Meeting, AAS San Diego
27 Jan 2005 -- ALMA Board Telecon . Dates for 2005.

LAMA Memo Series has new inhabitants, and a new director!
-

Project news/updates

(Wootten and Wilson)
* JAO Positions PS job description still needs applicants... (Wootten)
* ASAC Meeting. Agenda.
* AMAC Meeting.
* CCB approved a number of ICDs but has rejected the Sci Specs and Reqs twice since last meeting.
Science Specifications and Requirements to be considered soon. This has been reformatted substantially; comment please immediately.
Especially, discussion of ALMA image dynamic range.
System Design Description to be discussed. Comment please immediately.
*Tunable Filter PDR under way in Bordeaux

Reports from Subgroups
-1 Project Scientists (see also above) See ALMA Science IPT wiki page. Science IPT quarterly report.
* News from Japan (Kawabe)
* ARCs. Report on ESAC Meeting, ESO Community Day (Wilson)
* NRAO Newsletter on ALMA; biweekly calendar.
* ESO Newsletter

-2.

Configurations

(Conway)
John's memo No. 503 on ALMA antenna position calibration is under review.. Discussion on wiki page.

-3 Calibration (Mangum) See ALMA Science IPT Calibration Group wiki page, with Minutes of the 14 October telecon.
- Note the Calibration Document roadmap.
- The Requirements and Specifications is under revision for its appearance before the CCB.
- Plan for further tests of amplitude calibration devices: Progress is reported to be on schedule (Wilson or Martin-Pintado)


-4.Design Reference Science Plan (Hogerheijde )
- This was used to estimate science needs for image dynamic range specifications.


-5 Imaging (Holdaway)
- The ASAC requested a set of simulations to help them address their Charge No. 1.
- Report of ALMA-J imaging effort
Tak Tsutsumi has carried out imaging simulations for ACA + ALMA mosaicing for ALMA as the final number of antennas is approached. Preliminary results can be found at the below URL:
http://www.nro.nao.ac.jp/~imaging/ACA/L4/index.html


-6. SSR (Lucas)
- Minutes of this month's meeting.
- SSR meeting held 11-12 Oct in Garching
- Work on ACA specific requirements started
- Making progress on detailed requirements (per subsystem)


-7 Site (Radford, Nyman)
- Plan for the next phase


-8 Operations, Science Commissioning and Verification (Laing)


-

ALMA Commissioning and Science Verification Wiki-- Laing, Emerson, Chandler, Lucas, Mangum, Shepherd, Wilson, Wootten, Saito, Morita, Kawabe
- CSV Planning underway.
- Early Draft of ALMA Early Science Modes

-9 Any Other Matters Arising

- See EVLA Memo No. 84 'Solving for antenna based pointing errors' for your interest.
- Some have asked what the ALMA Band requirements actually are, so from the adopted system technical requirements here is a table: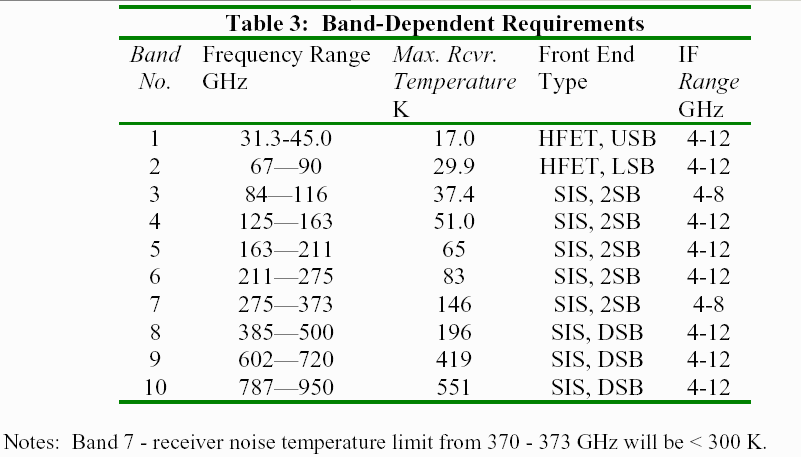 Science Corner: Sebastian Wolf writes: Our most recent feasibility study concerning future observations of young circumstellar disks with embedded giant planets with the Atacama Large Millimeter Array makes the prediction of possible detections not only of the gap created by giant planets, but also of the local hot and dense circumplanetary environment, indicating the location of the planet in the gap. See: http://xxx.uni-augsburg.de/pdf/astro-ph/0410064

Fig. 2.— Simulation of ALMA observations of disk with an embedded planet of 1Mjup
(left column) / 5Mjup (right column) around a 0.5M⊙ / 2.5M⊙ star (orbital radius: 5AU).
The assumed distance is 50 pc (top row) / 100 pc (bottom row). The disk mass amounts
to Mdisk = 1.0 × 10−2M⊙. Only structures above the 2sigma -level are shown. The size of the
combined beam is symbolized in the lower left edge of each image. Note the reproduced
shape of the spiral wave near the planet and the slightly shadowed region behind the planet
in the upper images. See

Date of next phone meeting According to the schedule the next one should be on: 2004, November 16th 15:30 UT

Upcoming Meetings
Upcoming Meetings - Wootten

Dusty and Molecular Universe 27-29 October 2004, Paris


IAU Symposium 227 Massive Star Birth: A Crossroads of Astrophysics May 16-20 2005, Acireale, Italy

Astrochemistry throughout the Universe: Recent Successes and Current Challenges 2005 August 29 - September 2; Asilomar, California


Protostars and Planets V 24 - 28 October 2005 Hilton Waikoloa Village, The Big Island, Hawaii


URSI General Assembly 23-29 October 2005; New Delhi, India; "Mm/submm Techniques and Science" session 25-26 Oct.