Next:
2.4 Ancillary equipment
Up:
2 Overview
Previous:
2.2 Multi-point video conferencing

2.3 Video conferencing to external sites using ISDN
Point-to-point conferencing with non-NRAO video sites that have ISDN capability is straightforward, and has been used for video conferences to Europe and to Japan. ISDN connections at 128 kbps usually give similar audio and video performance to IP connections at 384 kbps.

Point-to-point call to non-NRAO ISDN site from Charlottesville's conference room 311.
The Polycom FX system in the old Charlottesville conference room 311 can connect directly to outside sites over ISDN. In this case, the connection is made through the Charlottesville PBX as shown above(see instructions in Section 4.4.2).
Point-to-point call to non-NRAO ISDN site from Socorro
All other NRAO systems can communicate with external ISDN video sites through a Radvision ISDN Gateway that is connected to the Charlottesville PBX as shown above.The Gateway translates between the IP protocol that is used to send video and audio over the NRAO Intranet and the ISDN protocol that is used by the external connection. The example shows the connection for a Socorro system, but the same principle applies to the Charlottesville Auditorium, Green Bank, Tucson and VLA Site systems. Section 4.4.1 gives dialing instructions for such external ISDN calls. in .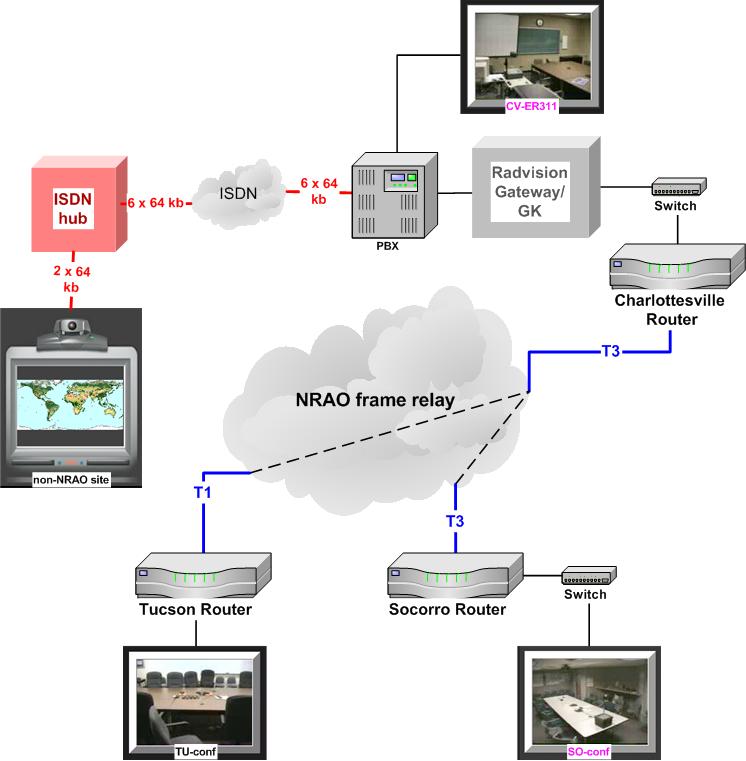 Four-way conference with an external ISDN site, hubbed outside the NRAO
Multi-site meetings involving external ISDN sites are possible (but note that these options have not been exercised fully and may need extra testing before they can be used routinely).
As many as three NRAO sites can connect simultaneously at 128 kbps to an ISDN video conference that is hubbed at an external ISDN site, as shown above. In this example, Tucson and Socorro connect to the external ISDN hub through the Radvision ISDN Gateway, while the Charlottesville system connects directly through the PBX. Three commercial ISDN phone line pairs providing a total of 384 kbps would be used to connect the external ISDN hub to the Charlottesville PBX. One pair would be used by each of the three NRAO systems.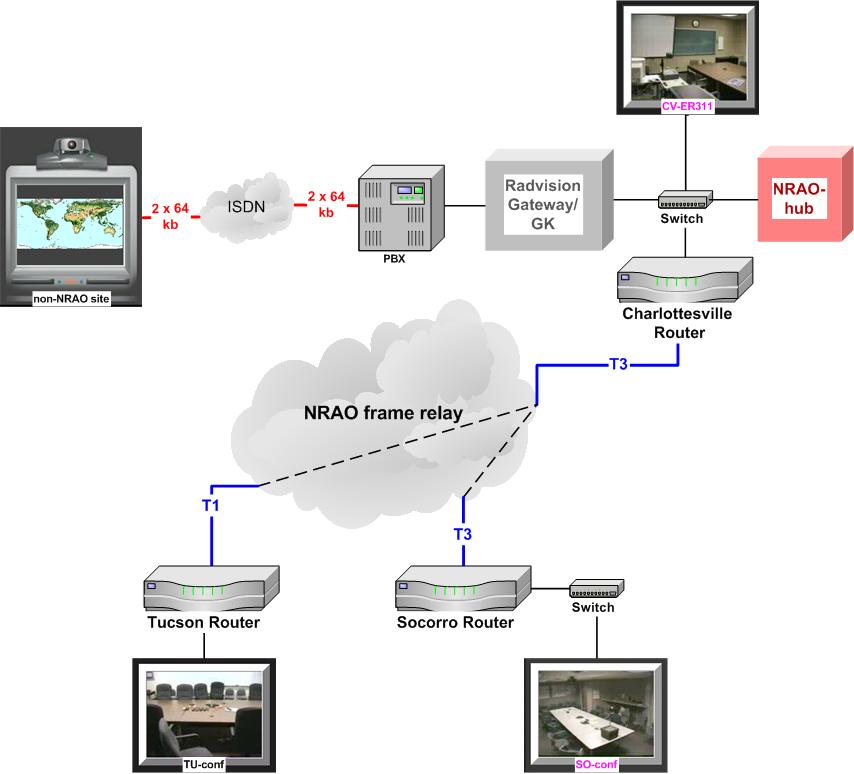 Four-way conference with an external ISDN site, hubbed by the NRAO-hub MCU
It is also possible for external ISDN sites to connect to the NRAO through the Charlottesville PBX and ISDN Gateway in order to join a conference hubbed in the NRAO-hub MCU as shown above..In this case the three NRAO systems would each connect to the NRAO-hub MCU at 128 kbps. The external site(s) would dial in through the Radvision ISDN Gateway, which would translate their ISDN audio/video data to IP format for processing by NRAO-hub. With currently available software this mode of operation yields inferior video quality. Also, one of the ISDN lines in Charlottesville that is in principle available for such dial-in by external video sites has been dedicated to NRAO satellite-link communications with Chajnantor. Future software and hardware upgrades in Charlottesville might make this mode more attractive, but the trend is strongly towards all-IP video conferencing and the use of the VSX hub as described earlier.
---






Next:
2.4 Ancillary equipment
Up:
2 Overview
Previous:
2.2 Multi-point video conferencing

---
Home | Contact Us | Directories | Site Map | Help | Search